 Join the Waitlist
We're getting the final pieces in place and will be launching Qurbie very soon! Join our list to be the first to know. You will also get special discounts, schwag, and other benefits! Everything You Need to Manage Contractors
Automate almost every step of the management process while staying in control of every event.
Contractors enter their hours and request payment. After you approve their work they get paid with direct deposit in days.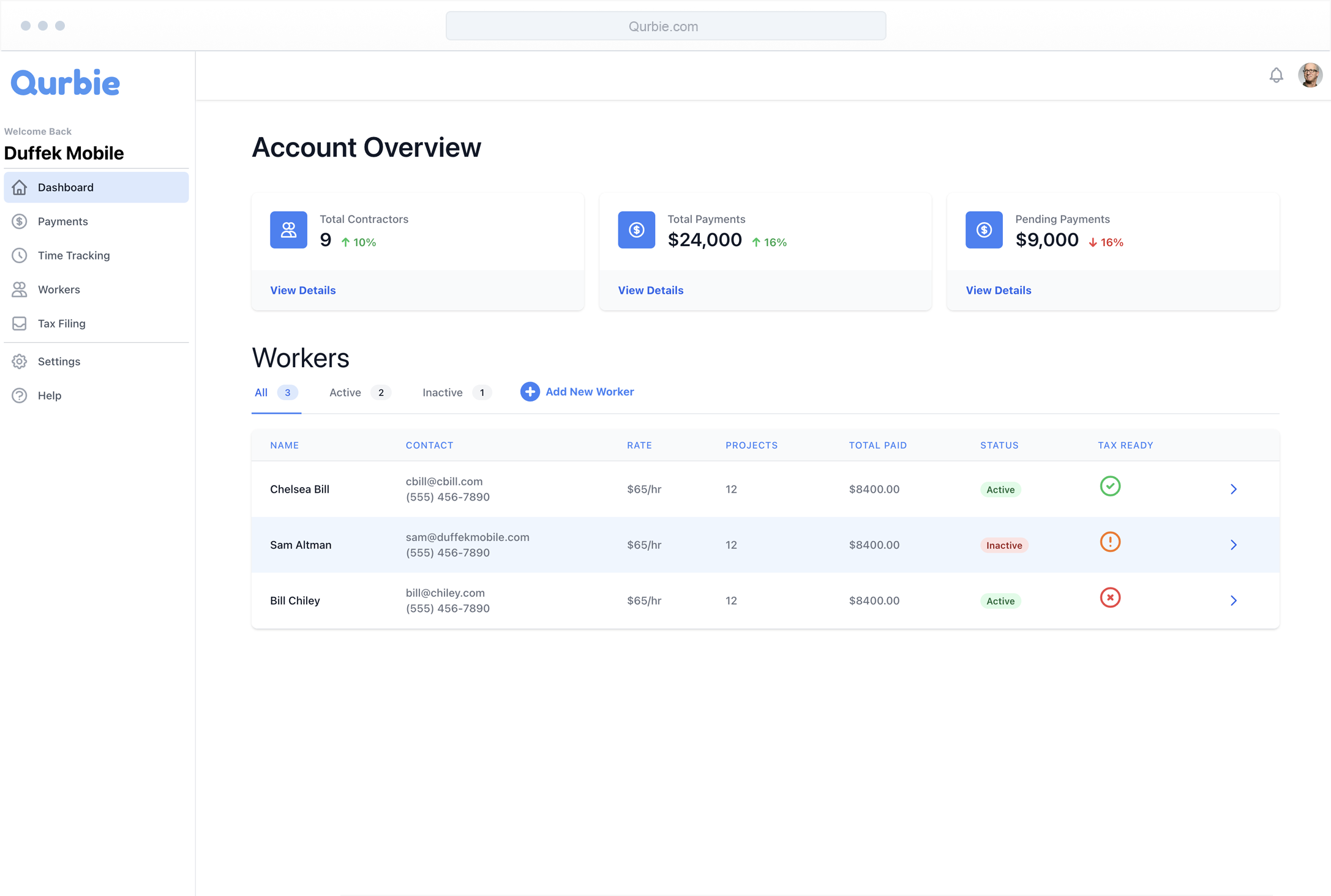 Frequently Asked Questions
Here are some of the most common questions about Qurbie.
Still have questions? Contact Us.
Is there a monthly fee?

No! We only charge when you make a payment or file your taxes. After talking to countless customers, we found that we could all use a few less subscriptions in our lives! Each payment to a contractor occurs a small fee. Part of the processing fees are built into this and the rest goes to keeping Qurbie in top shape so it can make your life easy for many years in the future! When filing taxes, we charge for up to 3 filings. Then a small fee for each additional filing. This allows us to meet all IRS regulations and keep the platform running smoothly for every tax deadline.

Does Qurbie Offer Full Payroll Services?

We are currently focused on simplifying the process of paying 1099 contractors. We have many future plans and will announce any new features, improvements, or other offerings to existing customers first. Then we'll offer them to the general public. You can also join our newsletter and follow our blog to always be the first to know what is happening at Qurbie!

Is My Data and Information Safe?

Qurbie uses industry best practices and leading security technologies to protect information. We also secure all of your employees information as well. Throughout the platform, we hide all sensitive information and only show it if requested by those with the correct permissions to see the sensitive data. All transactions and access to information is also logged so you know what data was accessed, when, and by whom.

What Do I Need to Get Started?

Getting started is easy! We just need the business owner's information, the business address, Tax ID, and other standard information. We also need you to connect a payment account so we can pay your workers on-time. After sign up is complete, you simply add workers and we'll do the rest! Every time a worker requests payment, we'll ask for approval. Once given, your workers are paid in ~1-3 business days. Payment information is tracked and when Jan. 31st comes around, you just have to verify the information before eFiling! Ready to Get Started? Join Qurbie.

How Long Can I Access My Data and Tax Forms?

Businesses can access their data anytime through their dashboard as long as they don't delete their account. Even if you choose to move to a new platform, you can always return to download your 1099 forms and payment history data. For your employees, we hold their data for at least 7 years. This may fulfill your businesses filing requirements. However, we always allow you to export and print hard copies of all your forms. After 7 years, we may purge older data for security purposes. Of course, we are compliant with all GDPR and similar policies. If you would like your data to be removed from our platform, we will do so according to our policy. For employee data, your employer may need to request the deletion and it may be up to their discretion because of employee retention laws in their state. Contact us and we will work with all parties involved to solve any issues you may have.